Stir Your Imagination, LLC is owned and operated by Jim and Melissa DeBiase. We offer complementary color consultations with all approved interior base painting estimates. Many customers say that choosing Stir Your Imagination is more than 'just picking a painting company out of a telephone book'. Melissa uses her artistic eye to help all customers choose the perfect color(s) for their home! We have many paint color samples to choose from and also offer larger 8 x 10 color sample sheets! We also have all of the most recent Pottery Barn Magazine paint color fandecks. Our specialty is choosing colors that flow beautifully and effortlessly from room one room to another! Our work is featured in our Portfolio Sections: Please click: Portfolio I, Portfolio II, Portfolio III to view photos that give clients ideas of what they might like to do in their home! We offer all of this and yet we are still very affordable and our prices are competitive! One client stated that we 'offer the most value for the price'. To read more of our client comments, click here. Jim and Melissa pride themselves on really listening to their customers' needs and making certain that clients are very happy at the end of the painting process.

What does the Stir Your Imagination Experience include?

1. We give you a beautiful, professional painting job! We provide free written estimates for all painting services and free sample boards for all faux finishes.

2. We offer free color consultations with all approved estimates. Our color consultations specialize in coordinating colors for homes with open floor plans so that the colors flow beautifully and effortlessly from one room to another.

3. We order free large color sample sheets for any colors that are chosen (in lieu of the small one inch color strips).

4. We email Pre-Painting Guidelines to help you to prepare for our arrival.

5. We pick up the paint for you.

6. We repair walls and fill in nail holes before we starting the painting process. We paint trim, baseboards, crown moulding, outlet covers and heating/cooling registers if preferred.

7. We never leave your home in the middle of a painting job to start another one like many contractors do. Once we start....we stay to finish! We value your trust in us and our work!

8. The Final Result is a beautiful, professional painting job at affordable prices!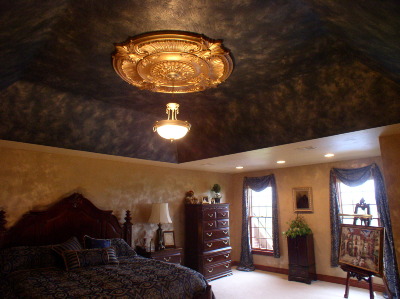 Gorgeous Bedroom with Lusterstone walls and ceiling and handpainted Ceiling Medallion! To view more photos, please click Portfolio I, Portfolio II and Portfolio III.